Suspiciously terrible yet seemingly popular takes
If you have ever had the misfortune of arguing with @SallyAlbright under the assumption of good faith, you have probably been shocked at how inane some of her statements can be.

Perhaps more shocking is the fact that there seems to be many people online that actually agree with her horrible tweets. Being inundated with notifications of strangers agreeing with bad tweets, rather than your good tweets, can be disorienting.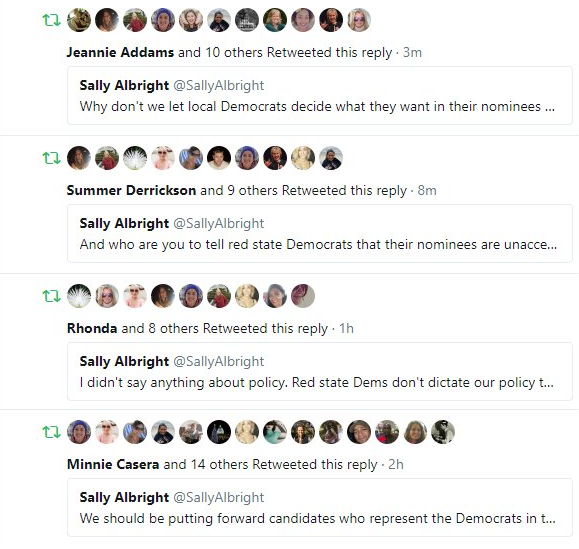 Who would agree with and then retweet these horrible responses!? Why are all of these people camping out deep in the comments just to retweet bad replies?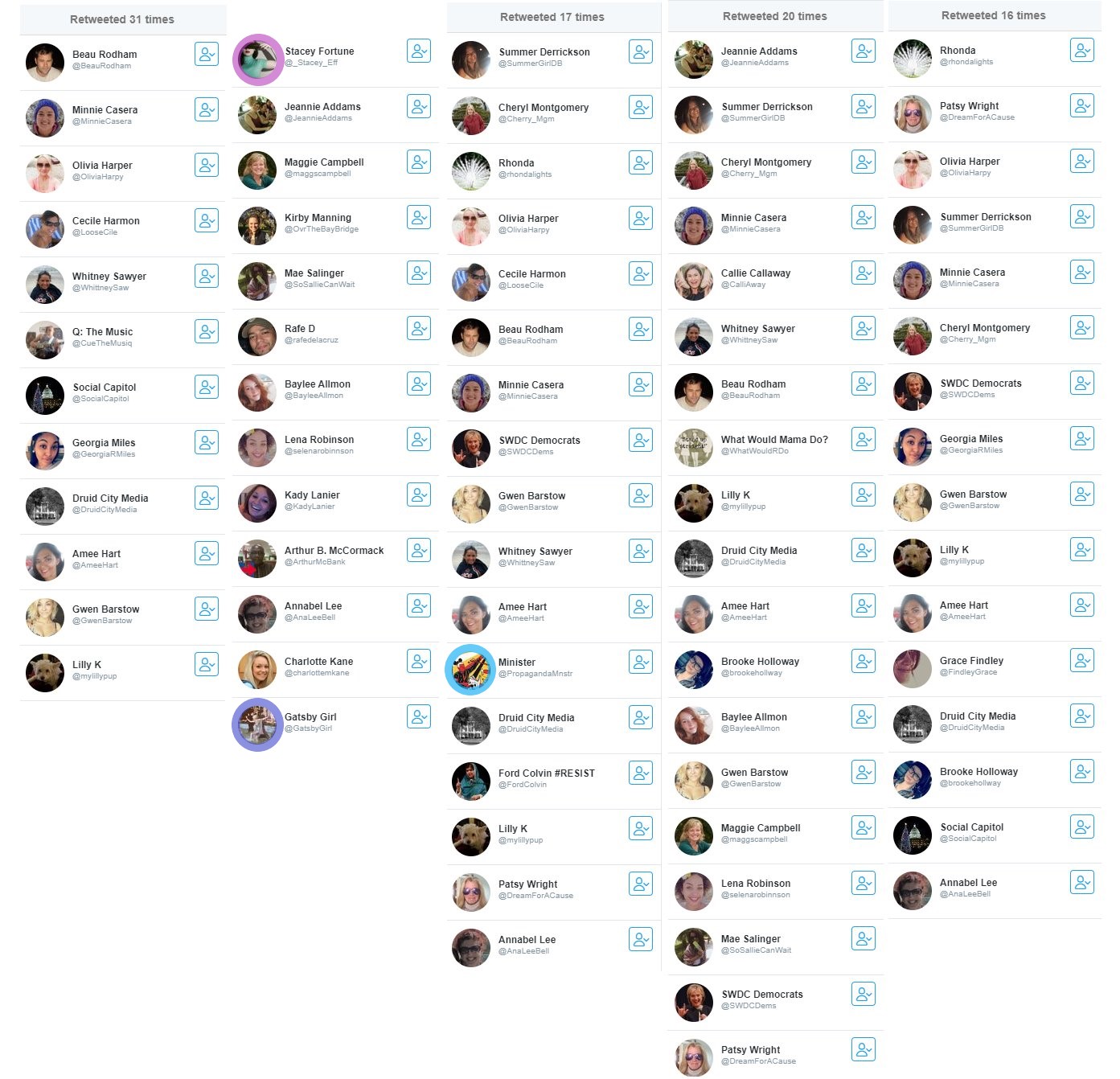 Well, turns out it's just Sally. Her sockpuppet influence campaign has continued brazenly since it was exposed in late January. With over fifty fake accounts, she gaslights and supresses oposition while amplifying messages such as: free college is racist, Bernie Sanders is a Russian agent, Hillary Clinton is a superior private citizen (leave her alone), Russian bots gave us Trump, an old cop is defending democracy, and that political dynasties are good.
Report Outline
In the following sections, I will attempt to lay out the following:
Evidence of sockpuppet use

And the connection with Shareblue

Which voices are being amplified

Verified and unverified accounts

What messages are being pushed
The extent of the astroturfing operation
Sockpuppet tech support
The best evidence of Sally Albright using sockpuppets is the fact that she literally tweeted it out. In March of 2017, Sally was concerned over some changes to Twitter automation software called Buffer. In the process of troubleshooting the issue with Buffer support over Twitter, she tweeted a screenshot of the the Buffer browser extension. The screenshot clearly shows dozens of Twitter account avatars signed in to the service and ready to lay down astroturf. Buffer allows for creating groups of different accounts in order to schedule tweets (or retweets) for different purposes or communities. At the time of the screenshot, Sally had 24 accounts in a group called "Weird Twitter", 25 in "Hillary", 6 in "Group 1", and 14 in "Tier 2".
Method
Tweets from 64 suspected sockpuppet accounts were collected using the rtweet package for R. Up to 3200 tweets (includeing retweets and replies) were gathered from each target account. The total number of tweets collected was 194377. Data regarding the clients used and individual sockpuppet accounts can be found at the end of the report.
Which accounts are being amplified?
Unsurprisingly, Sally Albright was the most retweeted account overall. She retweeted herself 30939 times from 63 unique sockpuppet accounts. This amounted to 15.6% of the 190k total tweets collected. In the first six weeks of 2018, she managed to retweet herself an average of 559 times per day.
Verified Accounts
Eric Garland was the second most retweeted account overall, with 2678 retweets originating from 59 unique sockpuppet accounts. Eric Boehlert was the most retweeted Shareblue employee, with 1883 retweets originating from 60 unique accounts.
The wordcloud below shows the 100 most frequently retweeted verified accounts. Font size of each screen name corresponds to the number of retweets received relative to other verified accounts.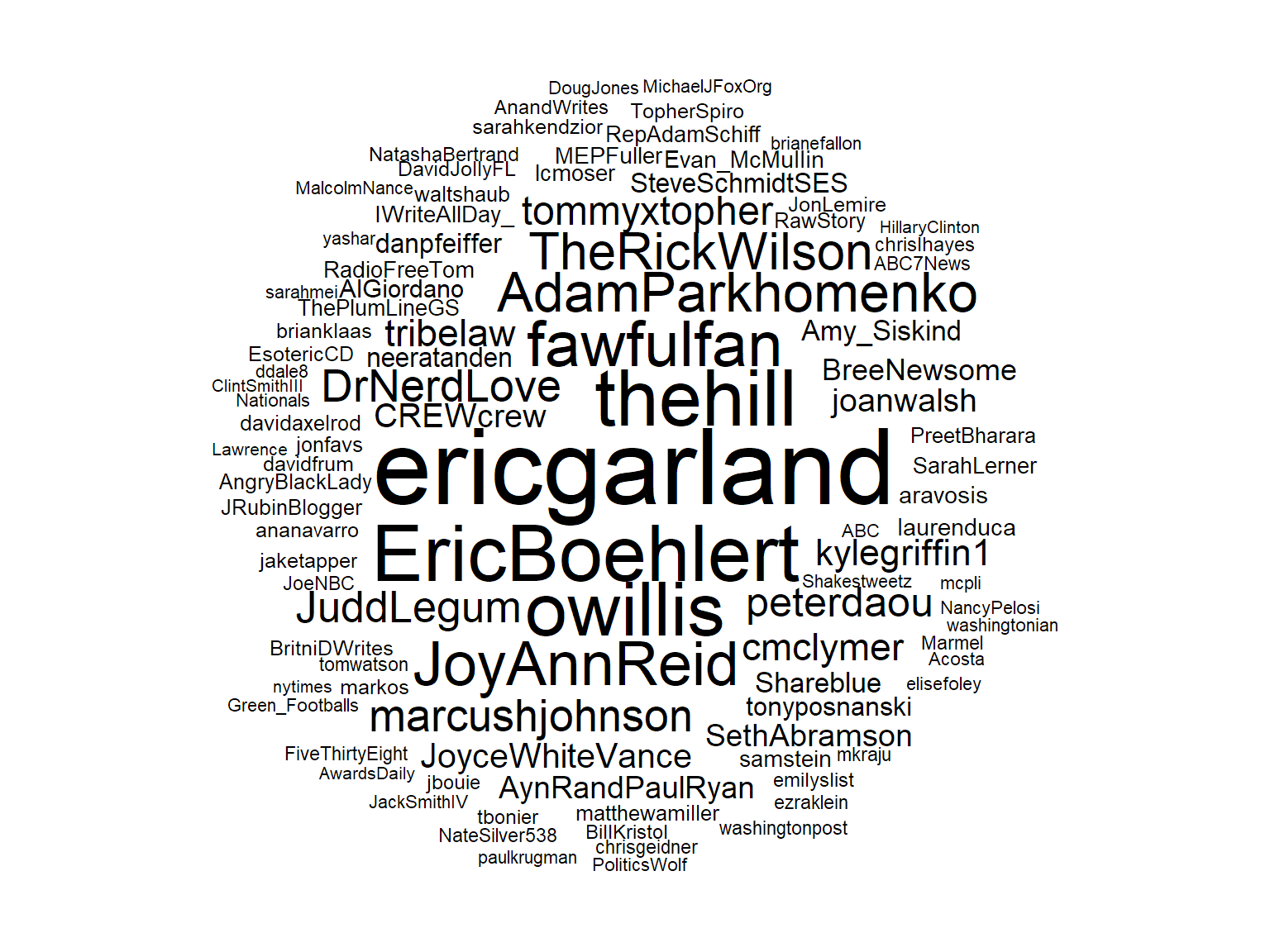 In addition to actively amplifying conspiracy theorist Eric Garland, "the Breitbart of the left" also engages in artificially inflating it's percieved reach and authority by retweeting it's own writers.
Unverified Accounts
In the following analysis, @SallyAlbright's massive number of self-retweets were omitted for ease of visual interpretation.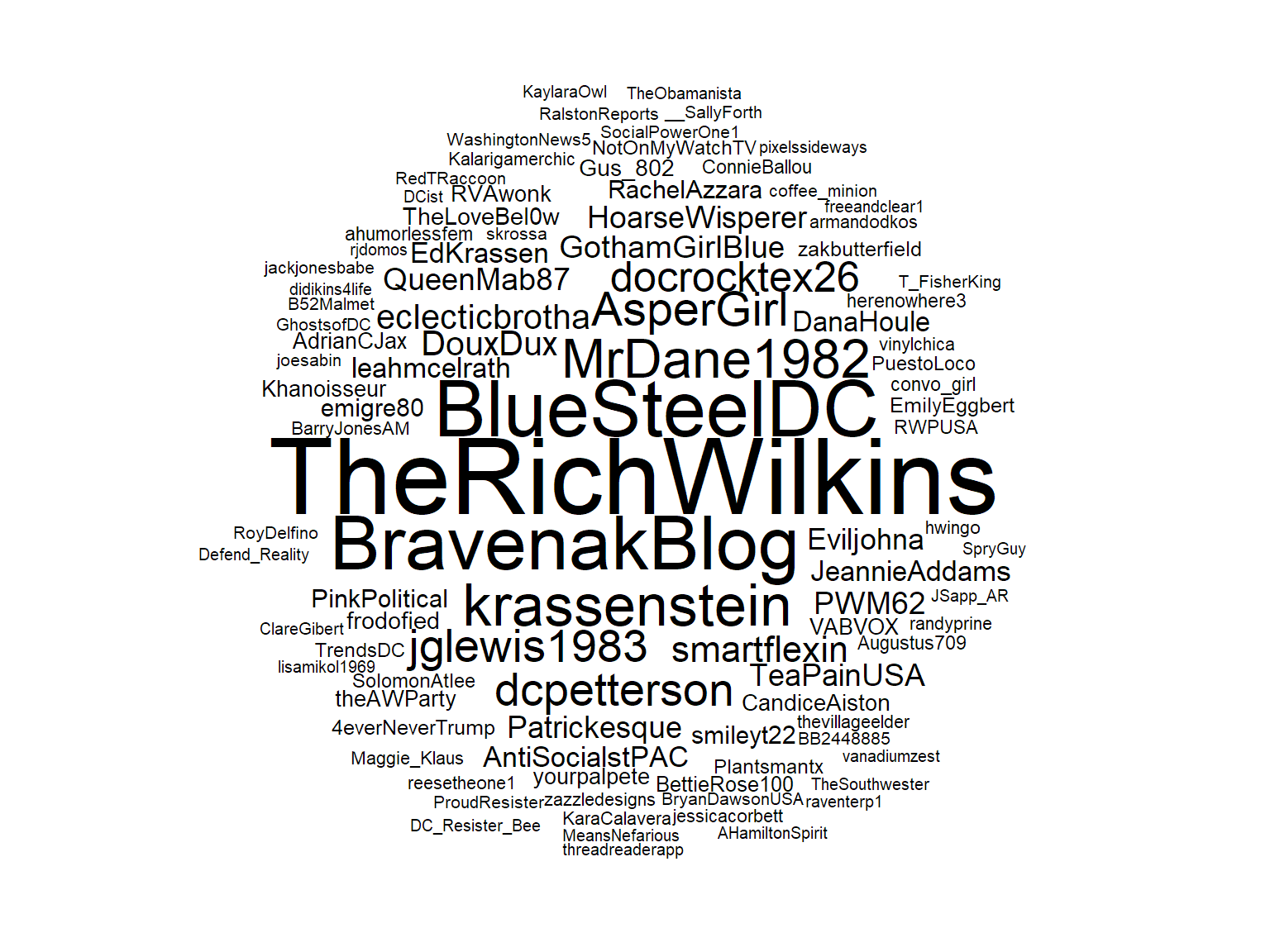 What Narratives are Being Pushed?
Clients Used
About 95% of the tweets collected were made using Buffer automation software. The next most common clients were RoundTeam (7k tweets), Web Client (800 tweets) and Hootsuite (400 tweets). RoundTeam and Hootsuite are other types of Twitter automation software.
Sockpuppet Accounts
Tweets from each of the 64 accounts were primarily sent with Buffer except for 2 accounts which used RoundTeam.